Big in The Phillippines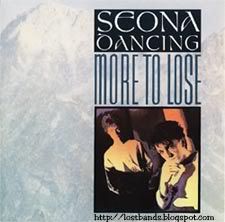 Reading, England's Seona Dancing released just two 7" singles and 12" remixes in the U.K. in the early 80's on London Records. Neither were hits but two years later they were big in the Phillippines.

According to All Music Guide: "DWRTFM in Manila started spinning a dreamy ballad called "Fade," by Medium. The song title and artist name were completely bogus, created so that their competitors wouldn't be able to find the record and play it themselves; a station I.D. was even inserted midway through the track, making it impossible for other DJs to record it and spin it on their own stations. A year later, its true identity was revealed on Manila's now legendary New Wave powerhouse DWXB102"

That song was Seona Dancing's "More To Lose". Seona Dancing were keyboardist Bill Macrae and vocalist Ricky Gervais who went on to manage Suede before they broke big and also wrote and starred in The Office on the BBC.

Seona Dancing have been blogged about before here and by Wily the Filipino where you can find the 12" mix of "More To Lose". You can also find a page dedicated to the band here.
Go to the download page to get Seona Dancing - "More To Lose" (7" version)